Street Movies! at Fairhill Park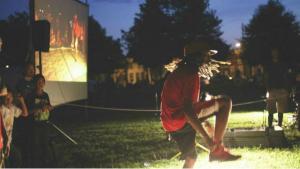 Friday, August 10 at 8:15 PM - 9:30 PM
Location(s):
Location: 412 W Lehigh Avenue
Rain Location: 2622 North Lawrence Street
Hosted by: Marangeli Mejia-Rabell
We invite you to join us for a night of free independent short films from local and international filmmakers! It's a fun evening for our Philadelphia neighborhoods! 
Each screening is hosted by a community organization and followed by a moderated discussion about the topics raised in the films. It's a great way to see films, talk about community issues and meet your neighbors.
Sponsored by PECO
FILMS
Frolic N' Mae dir. Danny Madden (USA, 2016, Action, 12:00 min)
Bored at a sleepover, Mae unleashes her imagination with doodles. But when the doodles come to life, she's got a knock down drag out fight on her hands.
Adija dir. Apollonia Thomaier (USA, 2017, Narrative, 14:00 min)
A young girl in the Bronx finds escape from an unhappy family life through her graffiti art.
Temple University and Displacement in North Philadelphia
POPPYN Production (USA, 2017, Documentary,  6:50)
Did you know Temple University is planning to build a 35,000 seat stadium in the heart of North Philadelphia? In this segment, we explore the potential impact of this project and the response of community members and organizers.
La Perla after Maria (12:00 min)
A close-up look about life in Puerto Rico after Hurricane Maria.