VIRTUAL SCREENING: Black and Blue Film Screening and Talk in Collaboration Third World Newsreel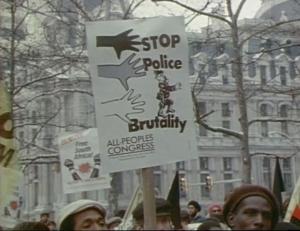 Monday, June 29, 2020 at 5 PM EST
Black and Blue (USA, 1987, 57 min)
Join us and our friends at Third World Newsreel on Monday, June 29 for a virtual screening and discussion about Philadelphia's longstanding struggle against police brutality, and what we can do now in this moment of change. Black and Blue (d. Hugh King and Lamar Williams), chronicles the impassioned community response to decades of deadly force against people of color by members of the Philadelphia police force. Community leaders, politicians, police officers, survivors of police brutality and sympathizers unravel a pattern of biased violent police behavior from the tenure of Police Commissioner Frank Rizzo to the bombing of Osage Avenue.
There will be a discussion with Lamar Williams and Hugh King, directors of Black and Blue after the screening, joined by Candace McKinley, lead organiser for the Philadelphia Community Bail Fund and Meejin Seol Richart, co-facilitator of the BIPOC Response to Violence coalition. The discussion will be moderated by filmmaker/activist, Lillian Jimenez.  When you RSVP you will get a link to stream Black and Blue via Crowdcast at 5 PM, followed by a Zoom link for the discussion at 6 PM. If you have any questions about the event, please email workshop@twn.org.
This screening is organized in collaboration with Third World Newsreel as part of their ORGANIZING AND FILMMAKING: THEN AND NOW series.