Storyville: New Works Produced Through Scribe's 14-Week Workshop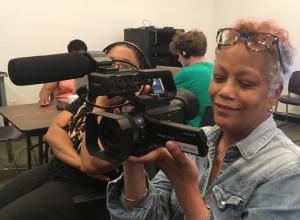 Friday, September 27, 6:00 PM
Location(s):
Scribe Video Center
3908 Lancaster Avenue
Philadelphia, PA 19104
The 14-Week Workshop covers all aspects of film and video production and supports participants in the completion of short projects. Many of this year's participants are also members of Scribe's Film Scholars Program, funded by the Academy of Motion Picture Arts and Sciences. The program consists of a series of short-form documentary videomaking training courses designed to support emerging filmmakers in completing new work. The 14 Week-Workshop is also supported by the National Endowment of the Arts.   
This Could be the Place? by Mal Cherifi
Detour by Stanton Young              
In Between by Bethany Monea   
Inner Warrior by Melonie Butler 
Sarah Bond, a Bond of a Different Fabric by Steven Berry
Mississippi Hot Dog by Laura Neuman