Producers' Forum: The Foreigner's Home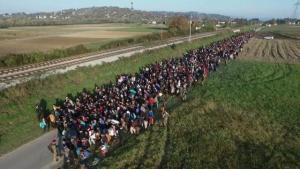 Friday, October 19, 7:00 PM
Location(s):
Scribe Video Center
3908 Lancaster Avenue,
Philadelphia, PA 19104
Event Type:
Screening
Producers' Forum
The Foreigner's Home produced by Ford Morrison (USA, 2018, 57 min)
Ford Morrison (Co-Producer and Cinematographer) in person
The Foreigner's Home explores Toni Morrison's artistic and intellectual vision through "The Foreigner's Home," her 2006 exhibition at the Louvre Museum in Paris. Through exclusive footage we observe Morrison in dialogue with artists, most prominently, writer Edwidge Danticat, as the discussion of "foreignness" extends beyond the urgent questions of migration in the Americas, Europe, and in the Middle East, and explores art's crucial role in comprehending the human problems that surround such questions. The film features extensive archival still and motion pictures of American and international topics and events basic to Morrison's vision—from slavery to the blues, from Hurricane Katrina to the current migration crisis in the Middle East and Europe.
Preceded by Finding Home: The Ruth L. Bennett Story (2016, 11:17) Produced by the Chester Housing Authority through Scribe Video Center's Precious Places Community History Project. The Ruth L. Bennett House was a safe haven for women and children arriving at the area from the South during the Great Migration.
Cost:
$10 General Admission, $8 Students, $5 Scribe members