Producers' Forum: Call Her Ganda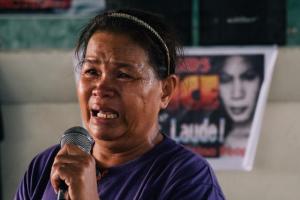 Friday, April 19, 7:00 PM
Location(s):
Scribe Video Center
3908 Lancaster Avenue
Philadelphia, PA 19104
Event Type:
Screening
Producers' Forum
CALL HER GANDA directed by PJ Raval (USA, 94 mins, 2018)
PJ RAVAL IN PERSON
When 26-year-old Filipina transgender woman Jennifer Laude, is found dead in a motel room, the perpetrator is quickly identified as 19-year-old U.S. marine Joseph Pemberton. The film focuses on a trio of women connected by their struggle for justice. Jennifer's mother, Julita; their activist attorney, Virgie Suarez, who labors to reveal the truth of Jennifer's death from inside the courtroom and providing context and perspective; and Meredith Talusan, a journalist who is determined to bring international attention to the case. Fusing personal tragedy, human rights activism and the little-known history, and complex aftermath of U.S. imperial rule in the Philippines, Call Her Ganda forges a visually daring and profoundly humanistic investigative exposé.
PJ Raval is an award-winning filmmaker and cinematographer whose work explores the overlooked subcultures and identities within the already marginalized LGBTQA+ community. Raval's film credits include Trinidad and Before You Know It, which and was awarded the National Gay and Lesbian Journalist Association Excellence in Documentary Award 2016. Also an accomplished cinematographer, Raval shot the Academy Award nominated documentary, Trouble the Water.
Preceded by Life After Life (USA, 2018, 15:25 mins) directed by Nadja Mogileski & Chamar Dancy-Kegler through Scribe Video Center's 2018 Documentary History Project for Youth. This documentary follows one family and their community as they confront the loss of a young man and recounts the resilience it takes to continue living after tragedy
Cost:
$10, $8 Students/Seniors, $5 Scribe members