Master Class with Henry Adebonojo: The Meaning of the Lens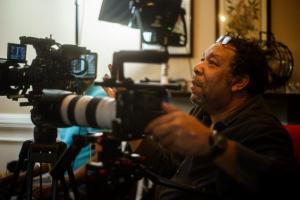 Tuesday, September 18, 2018, 7:00pm- 9:00pm
Location(s):
Scribe Video Center
3908 Lancaster Avenue
Philadelphia, PA 19104
HENRY ADEBONOJO: The Meaning of the Lens
This master class focuses on lens choices in narrative and documentary filmmaking. While lighting is an important component of the emotional equation, the lens also has attributes that will affect how a viewer receives narrative elements of a given story. Adebonojo will introduce different types of lenses and the class will consider how the unique characteristics of each lens affects our visual sensibilities and pose questions about how to utilize them for dramatic effect. The class will consider many cinematic questions such as when one would use a wide angle lens versus a telephoto lens or when one would use a zoom as opposed to moving the camera itself.
Adebonojo's projects have included music videos, commercials and TV pilots. His work in documentary, however, has resulted in the most recognition of his craft. In 2001, he was nominated for an Emmy for Half Past Autumn - The Life and Works of Gordon Parks.  In 2016, Henry was invited to contribute to the production for I Am Not Your Negro which was nominated for an Academy Award.  Most recently, Henry served as the DP for Maynard, a documentary about Atlanta's first African American Mayor, Maynard Jackson.