RESCHEDULED TO OCT 26! Master Class with Bradford Young: A Cinematic Approach to Memory in Four Dimensions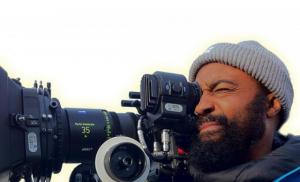 Saturday, October 26, 2019, 11:00 AM – 1:00 PM
Location(s):
Scribe Video Center
3908 Lancaster Avenue
Phialdelphia, PA 19104
This workshop has reached capacity! If you'd like to be added to the Wait List, you can send an email to inquiry@scribe.org.
Join us for a discussion on the cinematic possibilities of video installation, media works that are created for a specific location. Acclaimed cinematographer, Bradford Young, best known for his work on such films as Selma, When They See Us, A Most Violent Year and Arrival, will discuss his technical and aesthetic approach to installation as well as the process of creating the newly commissioned work, Back and Song.
---
Back and Song
by Elissa Blount Moorhead and Bradford Young
Philadelphia Contemporary, Girard College, Philadelphia, PA (October 5-27, 2019)
Young and co-creator, Elissa Blount Moorhead's Back and Song is an intertwined filmic mediation about the long and resistant histories of, and contributions from, Black healers, doctors, morticians, midwives, nurses, and health care workers, and their engagement with Western medical institutions. The project examines the impact of this engagement on Black familial lineage in its confrontation, acquiescence, and refusal of mistreatment, neglect, experimentation, violence and inadequate care.