ON-LINE ONLY: Street Movies! North Philly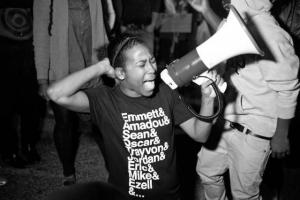 Tuesday, August 4 at 8:00 PM
Location(s):
Life Do Grow Farm, 2315 N 11th Street
POSTPONED! Due to today's weather, we will be postponing this Street Movies! presentation to late August. We will still be streaming Whose Streets? on-line via Crowdcast tonight. Sign up here to tune in: https://www.eventbrite.com/e/street-movies-2020-simulcast-tickets-115193639276
Host: Uptown Entertainment & Development Corporation and The Urban Creators
Location: Life Do Grow Farm, 2315 N 11th Street
Emcee: Mari Morales-Williams
Performer: Positive Movement Drum Line
Films screening: WHOSE STREETS? Directed by Sabaah Folayan and Damon Davis
Join us for our Street Movies! North Philly presentation on Tuesday, August 4 at 8:00 PM. The program will begin with a performance from Positive Movement Drum Line, followed by a screening of WHOSE STREETS, an unflinching examination of the Ferguson uprising. Director Sabaah Folayan will be in attendance for a post-film discussion. If you are unnable to attend Street Movies! in person, you can tune in live via Scribe's Crowdcast simulcast. To stream the film on-line, sign up here. 
This event is a collaboration with POV, PBS' award-winning nonfiction film series. For more information, please visit: https://www.pbs.org/pov/
STREET MOVIES! IS MADE POSSIBLE WITH SUPPORT FROM PECO.