The House on Coco Road - Directed by Damani Baker (Grenada/USA, 2016, 78 min)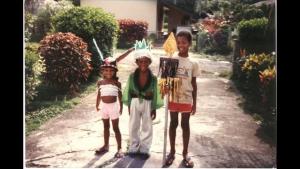 Tuesday, June 6 at 7:00 PM
Location(s):
International House Philadelphia
3701 Chestnut Street
Philadelphia, PA 19104
Event Type:
Producers' Forum
Screening
$10, $7 Students/Seniors, $5 Scribe and IHP members  PURCHASE TICKETS HERE
The House on Coco Road is an intimate portrait of Fannie Haughton, an activist and teacher who moves her children from Oakland, California in 1983 to participate in the Grenada's Afro-centric Socialist Revolution only to find her family in harm's way of a U.S. military invasion. This is a story of a larger tale of black activism embodied by Haughton and a group of tireless women who put their lives on the line, daring to build a different type of country and a better world. Damani Baker is an alum of Filmmaker Magazine's "25 new faces in independent film". His career spans documentaries, music videos, museum installations and advertisements. Baker's first feature documentary about the life and music of Bill Withers, Still Bill, opened theatrically in 2009. Baker is a professor at Sarah Lawrence College's Film and New Media Department. 
Cost:
$10, $7 Students/Seniors, $5 Scribe and IHP members