Documentary History Project for Youth Premiere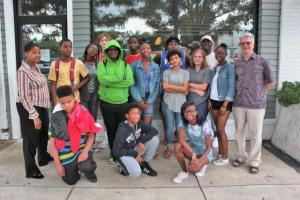 Sunday, December 16, 2018, 2:00 PM
Location(s):
Institute for Contemporary Art (ICA)
118 South 36th St.,
Philadelphia, PA 19104
Please join us to celebrate new works from the 2018 Documentary History Project for Youth.
Produced collaboratively, the teens examined the organic culture that spills out of our homes and springs from the city's streets. More than just physical spaces, the region's neighborhoods are sounds, tastes, stories, dances and memories that signal community.  Our young filmmakers have applied their talents to explore and document the cultures they have experienced but perhaps never really noticed before. 
The filmmakers include Kyla Gladney-Enos, Chamar Kegler, Nadja Magilewski, Malcolm Margasak, Tezita Marquis, Lazhier Millner, Tymeir Oveida, Kaitlyn Petroski, Madison Richardson, Zion Stephens, Tameir Toppings, and Jennifer Wilson. 
Please RSVP at Eventbrite HERE