Precious Places on PhillyCAM!!!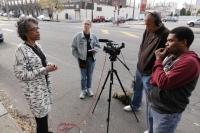 Begins Sunday, March 5 at NOON
The complete Precious Places Community History Project series will be cablecast on PhillyCAM, Philadelphia's public access network, every Sunday for 13 weeks. Programs are repeated Monday nights at 7:00 PM. Tune in to
People Powered Media on Comcast Cable 66 / 966HD / 967 or Verizon Fios 29/30 and on the world-wide web at https://phillycam.org/web-channel
THE PRECIOUS PLACES COMMUNITY HISTORY PROJECT IS SUPPORTED BY DOLFINGER-MCMAHON FOUNDATION, UNION BENEVOLENT ASSOCIATION AND THE DJERASSI FOUNDATION.