Youth Workshop: Cinema as Poetry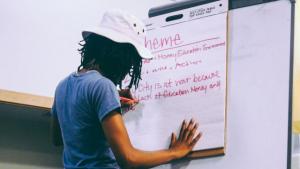 6 Sessions – Sat Jan 27, Feb 3, 10, 17, Mar 3, 10 11:00 AM – 1:00 PM
Location(s):
Scribe Video Center
4035 Walnut St.
Philadelphia, PA 19104
Open to all young people ages 11 to 19
This workshop will challenge participants to create a short film expressing their personal visions using the basic building blocks of cinema as if they were poetry. Participants will screen, review, and critique films to become familiar with the evaluation process. Then using what they learned, they will develop, storyboard, produce, and edit their own 1- 3 minute films. 
PLEASE REGISTER BY TUESDAY JAN 23, 2018
Cost:
$25, $10 Scribe member's family