Short Narrative Films: Move Forward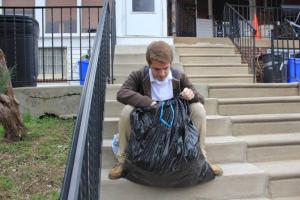 Friday, June 23 at 7:00 PM (Reception 6:30 PM)
Location(s):
Scribe Video Center
4035 Walnut Street
Philadelphia, PA 19104
Event Type:
Screening
Storyville/ Scribe Café
Sketched (2016, 6 min) by Aidan Carter Guynes -The story of Jack, who battles to break free of life's everyday worries, stress, heartache and uncertainty all the while holding strong to a positive outlook. The Bravest, the Boldest (2014, 17 min) by Moon Molson - A young mother in a Harlem housing project realizes the arrival of two uniformed soldiers brings news she can't bring herself to accept. Home(less) (2015, 22 min) by David Walls - After being thrown out of his most recent foster home, Ben is on the verge of "aging-out" of foster care and becoming homeless. See Me on the Beat (2016, 4 min) by Philip Asbury - Amid the bustle of their individual lives, two strangers meet in a salsa club and discover the power of one dance to take them on an adventure far away.
Cost:
Free ($5 Suggested Donation)