Home Recording for Radio and Podcasts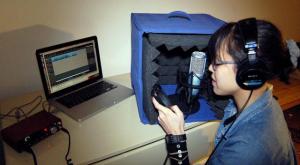 4 Sessions – Tuesdays, July 18, 25, August 1 and 8th – 7:00 PM – 9:00 PM
Location(s):
Scribe Video Center
4212 Chestnut Street, 3rd Fl
Philadelphia, PA 19104
Do you want to make a professional-sounding radio show or podcast, but don't have access to a recording studio? Don't let that stop you! You can record high quality voice tracks in a closet, in a corner of your bedroom, or even right at your desk.  The class discusses microphones, recorders, and acoustical treatments, with focus on simplicity and affordability.  Finished projects will be aired on WPEB 88.1 FM.
Cost:
$120, $100 Scribe Members