Fundraising for Indie Film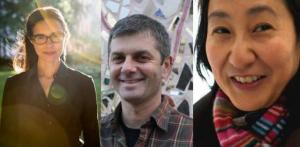 3 Sessions – Tuesdays – September 5, 19, and 26, 7:00 PM – 9:00 PM
Location(s):
Scribe Video Center
4035 Walnut St.
Philadelphia, PA 19104
Instructor:
Heidi Saman, Ben Kalina, and Rea Tajiri
Participate in this workshop individually or as part of Scribe's Film Scholars Program.
Raising money is the most difficult task in filmmaking. Three filmmakers share strategies to help you meet fundraising goals for your next film! September 5: Heidi Saman (Namour) discusses how she used social media platforms to create audience engagement and successfully crowdfunded for her first feature film, Namour.  September 19: Ben Kalina (Shored Up) shares his experience raising funds through Kickstarter and Indiegogo for post-production on his documentaries Shored Up and HOME. September 26: Rea Tajiri (Wisdom Gone Wild) has successfully funded all her films through crowdsourcing, grants, and fellowships. She will discuss the elements that make up a successful documentary film funding proposal.